Mapping of origns and locales known :
China: relevant mountains in relation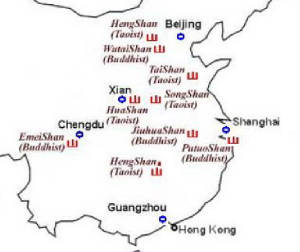 ====TAOIST
3. Hua Shan, Shaanxi; Taoist Mt. of West,
19. Zhong Nan Shan, Shaanxi
1. Heng Shan Nan, Hunan; Taoist Mt. of South
2. Heng Shan Bei, Shanxi; Taoist Mt. of North
4. Tai Shan, Shandong; Taoist Mt. of East
5. Tong Shan, Henan; Taoist Mt. of Center
====BUDDHIST
8. Jiu Hua Shan, Anhui; Buddhist Mt. of South.
6. Emei Shan, Sichuan; Buddhist Mt. of West.
7. Wu Tai Shan, Shanxi, Buddhist Mt. of North.
9. Pu Tuo Shan, Zhejiang; Buddhist Mt. of East
10. Huang Shan, Anhui; 31. Qi Yun Shan, Anhui (Taoist Mt.)
23. Wu Dang Shan, Hubei; 34. Huang Mei Shan, Hubei
Famous Chinese Peaks: 'Mount Wudang is located near the Shiyan City, northwest of Hubei Province. It is southeast of Mt. Hua Shan...Local people call it another name: Mount Tai He or Mount XuanYue.'
References
Map: Origins and regions of abundance
As per available records
On the Origins of LiuHe BaFa : Jiang Rong Qiao (1890-1971)
"as a forward for Chen Yi Ren's book entitled "Liuhe bafa Chuan", published September 1st, 1969. Jiang Rong Qiao, founder of Jiang Style Bagua Zhang, studied Liuhebafa from Wu Yi Hui during his time at the Nanjing Central Martial Arts Academy, where he became close friends with Chen Yi Ren.
"Liuhe bafa's place of origin is Lu-yi Village [ 陸一村 ] , located in [ 河南 ] Henan Province's Shen Qiu County. [ 省沈丘县 ] [??ShangQui ??] [subjective due to origin of Chen] That region ..., as well as Hei-long-jiang Province's [ 黑龙江省 ] Jia Si Mu Region, [佳木斯市 ] are places where it exists in abundance. "However, even among those practitioners, the Liuhe bafa training method of Wu Yi Hui is distinct; his Liuhebafa as an art and skill have considerable worth."
"Another specialist in Liuhe bafa is Mr. Xu Wen Bing, 許文冰 a feudal official of Jinan City 濟南, Shandong 山东 and former Manager of Henan Province's 河南 Martial Arts Academy. 武術 wǔ3 shu4, 專科院校 zhuān2 kē2 yuàn4 xiào4 Academy. However, his Liuhe Bafa is not as refined as that of Wu Yi Hui."
[ Notes : Chen Bo Tuan : birth name, Chen Tuan ... start of the Song 宋朝 Dynasty : 960-1279; , possibly in what is now 陸一村 Lu-yi in Henan Province 河南 located in the eastern, central part of the country. The name 河南 Henan means "south 南 of the (Yellow 河 ) River" (Huang He). 省 Province 县 district, county sheng3 xian4 陸一村 Lu4-yi1 cun1, land-one- village-hamlet; 村 cūn1, village, hamlet 省沈丘 = 省 sheng3 [xian3] province; 沈 chen2 [shen3, name]; 丘 qui1, hill 县 xian4, County; [[ Shangqiu 商丘市 Shāng2qiū2 Shì 4 Prefecture-level city ]] ?? Hei-long-jiang Province 黑龙江省 Hēilóngjiāng Shěng Jiamusi 佳木斯市 Jiāmùsī Shì Prefecture-level City.]