Enter the Dragon Movie Actors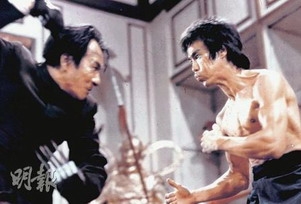 Guan De-xing ( Kwan Tak-hing) HK movie actor-teacher
[ Photo at the 1964 Internationals at Long Beach California ]
front- J. Pat Burleson, Bruce Lee, Anthony Mirakian, Jhoon Rhee.
back- Allen Steen, George Mattson, Ed Parker, Tsutomu Ohshima, Robert Trias,
Wang Xiang-zhai <==> Sun Lu-tang <==> Wu Yi-hui :
Wang xiang-zhai (founder of Yi-quan) and Sun Lu-tang (founder of Sun style tai-chi-, ba-gua-, and xing-yi) were both students of grandmaster Guo Yunshen 郭雲深.
There exists two anecdotes here; first regarding the meeting and praise of LHBF founder Wu Yi-hui; and the second, a test and a defeat of Msr. Sun by one of Wang's students. [needs citation]

During his young adult life, Wang Xiang-zhai became a soldier in Beijing and at the age of 33, he went all around China, studying martial arts with many famous masters including monk Henglin 释恒 (also known as Changlin or Xianglin) , Xinyi-quan master Xie Tie Fu, 解鐵夫 , southern white crane style masters Fang Yi Zhuang 方恰庄 and Jin Shaofeng, 金紹峰 and Liuhebafa master Wu Yi Hui 吳翼翬 etc.